New Product Line Announcement
Erikson Commercial:
New Exclusive Canadian Distributor for


RAMSEY, NJ, January 19, 2017 – PureLink, a leading global provider of HD and UHD/4K video connectivity solutions, announced today that it has signed an agreement with Erikson Commercial, a Canadian based company which has been distributing audio and music equipment in that market for more than 25 years. The company, headquartered in the Montreal, Québec area, will now be selling PureLink's extensive catalog of audio and video matrix routing, signal distribution, extension and conversion systems, to their customers.
Erikson Commercial is very excited to partner with PureLink" stated Erikson VP, Christian Bouchard. "They are an innovative and established company that was first to market with several now standard technologies that shaped the nature of our industry," he added. "We feel privileged to be introducing to the Canadian marketplace the many solutions PureLink offers, they are indeed a rare commodity, a high quality manufacturer that can offer both affordable and competitive solutions," he added. "Consultants and dealers alike will come to realize the high levels of integrity and professionalism that PureLink brings to the table. And all that both on-time and within budget; that's the edge that makes the difference" concluded Mr. Bouchard
"PureLink takes great pleasure in announcing Erikson Commercial as its exclusive commercial distributor in Canada," stated Howard Schilling, PureLink's Director of Sales. "Erikson's rich history of excellence in delivering world-class sales and service to many different areas of the video, audio, and control markets make it a perfect fit for our ever-growing catalog of cutting-edge Ultra and Full HD matrix switching and extension solutions," added Schilling.

For more details on this new partnership go to www.purelinkav.com or contact PureLink at sales@purelinkav.com or 201-488-3232.
About PureLink
PureLink designs and manufactures the world's most respected HD Video connectivity solutions, consisting of products such as Cross-Platform Digital Modular and Integrated Matrix Switchers, Presentation Systems, CATx/Fiber Optic Extenders, Format Converters, Video Switchers and Distribution Amplifiers, along with accessories such as Signal Analyzers, Audio Downmixers, Digital Signal Isolators, and DisplayPort, Fiber Optic, and HDMI Cables and Adapters. Founded in 2002, PureLink has quietly pioneered the exploding HD Video connectivity space, inventing 1080p HDCP matrix switching along with the large-scale DVI Matrix Switcher. For further information on all PureLink product offerings please go to www.purelinkav.com.
______________________________________________________________________
New from P.Audio: SW-Series - Weather Protected Medium & Large Format Sound Reinforcement System


Nashville, TN (September 2016) – P.Audio launches a new line of weather-engineered high-performance loudspeakers.
The P.Audio SW-Series are weather protected medium & large format high-performance sound reinforcement system. The cabinet is made from a one piece rotomolded UV resistant polyethylene enclosure. They are designed for a wide range of application such as: Installed Sound Reinforcement in Outdoor Environments, Indoor Applications Requiring High Sound Quality, and Distributed Systems using the included Line Matching Transformer (SW-8C & SW-12T only).
The SW-8C, SW-12D and SW-12T all feature:
- Rotomolded UV protected Polyethylene Cabinet
- Coaxially Mounted High Frequency Driver
- Integrated U Bracket with Dual Layer Zinc Rich Powder Coating
______________________________________________________________________
Erikson Commercial:
New Exclusive Canadian Distributor for


Nashville, TN (March 2016) – Erikson Commercial has been named the Canadian distributor for One Systems, Inc. effective April 8th, 2016.
The announcement was made by Doug MacCallum, One Systems Inc. president.
"We are very excited to appoint Erikson Commercial as our new distribution partner in Canada," explains MacCallum. "Erikson is certainly one of a select, few premier distribution companies in the region and we are very fortunate to be working with them again. I am confident they will significantly grow the One Systems brands – One Systems, On Point Audio and P.Audio – and their visibility throughout Canada."
The One Systems Inc. brands include One Systems Direct Weather loudspeakers, the On Point Audio series of installed sound loudspeakers, and its newest addition of portable PA and installed sound loudspeakers from P.Audio.
"This is a terrific opportunity for Erikson Commercial," adds Arthur Bronstein, division manager of Erikson Commercial. "The One Systems Hybrid Series seems almost custom made for Canadian weather – there are so many customers that will benefit from those products. The other products in the On Point Audio Series and P.Audio loudspeaker line provided added depth to our installed sound products mix. The team is eager to get the word out and move the bar even higher for the company."
______________________________________________________________________
Erikson Commercial:
New Exclusive Canadian Distributor for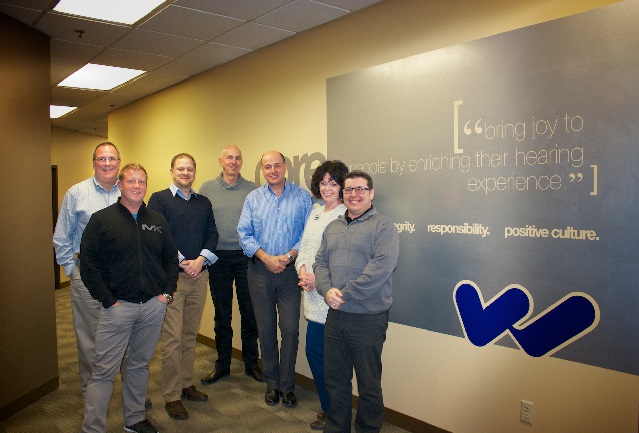 .
(L to R) Dan Durbin, Kyle McIntosh, Claus Frostell, Clive Smolana, Christian Bouchard and Richard Fontaine with Williams Sound VP of International Sales, Doreen Ingebrigtsen, during a visit to the Williams Sound corporate headquarters in Eden Prairie, Minn.
IMMEDIATE RELEASE - Baie D'Urfé, Quebec
Williams Sound of Eden Prairie, Minnesota has named Erikson Commercial its exclusive Canadian distributor. Williams Sound manufactures a full line of wireless communication technology solutions -- digital, FM, infrared, and loop -- for all commercial markets.
Williams Sound is a global designer and manufacturer of wireless communication technology, serving personal and professional listening needs worldwide since 1976. They offer products and service for such commercial markets as hearing assistance, language interpretation, tour, corporate, education, government and house of worship. Important products include DIGI-LOOP Induction Loop Systems, Digi-Wave™ Digital Communication Systems, Personal PA® FM Listening Systems, Portable Hearing Assistance Tour Guide Systems and SoundPlus® Infrared Systems.
"We are pleased to be partnering with Williams Sound," comments Erikson Commercial Vice-President, Christian Bouchard. "This is a company with a long standing history of innovations. Today, more than ever, they are an entrepreneurial group with strong R&D, offering superior yet competitive solutions."
A recent Level 2 training seminar at Williams Sound was hosted by Paul Ingebrigtsen (President/CEO) and Doreen Ingebrigtsen (VP of International Sales). Erikson Commercial was represented by Christian Bouchard (V-P Sales), Claus Frostell (Product Specialist), Richard Fontaine (Product Manager and Technical Support), Clive Smolana (Sales Representative, Maritimes), Dan Durbin (Sales Representative, Ontario), and Kyle McIntosh (Sales Representative, Western Canada).
###
For more information, contact Erikson Commercial, a division of Jam Industries Ltd. 21000 Trans-Canada Highway Baie D'Urfé, QC, H9X 4B7 Tel: (514) 457-2555 email: info@eriksoncommercial.com www.eriksoncommercial.com
About Jam Industries Limited With headquarters in Baie D'Urfe, a suburb of Montreal, Canada, Jam Industries Limited is the parent of a group of companies employing over 580 people in the Musical Instrument, Professional and Commercial Audio, Lighting, and Consumer Audio segments. Jam's 40 plus years in distribution and brand ownership has created a unique set of skills making it a leader for North America. Jam's various divisions and companies include: Erikson Commercial, Erikson Pro, Erikson Music, Coast Music, Erikson Audio, Erikson Consumer, American Audio & Video, US Music Corp., American Music & Sound, Ashly and Arcam.
______________________________________________________________________
New Product Line Announcement
Baie D'Urfé, Québec - Erikson Commercial has been appointed exclusive Canadian Distributor of Soudsphere products effective April 1st 2014. You can now contact your local Erikson Commercial Sales Representative for all your Soundsphere needs.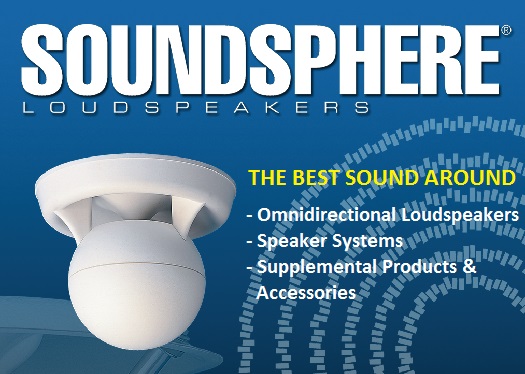 .
Founded in 1976, Soundsphere is best known for its ceiling-mounted, globe-shaped omnidirectional speakers. These speakers produce a wide, diffuse sound field and are installed in a broad variety of applications including offices, government facilities, warehouses and shopping centers. A wide range of on-ceiling speakers are available along with flush-mount speakers, in-ceiling speakers and speaker systems. All Soundsphere products are made in the USA.
______________________________________________________________________
New Product Line Announcement
Baie D'Urfé, Québec - Erikson Commercial has been appointed exclusive Canadian Distributor of SoundTube Entertainment products effective February 16th 2013. You can now contact your local Erikson Commercial Sales Representative for all your SoundTube needs.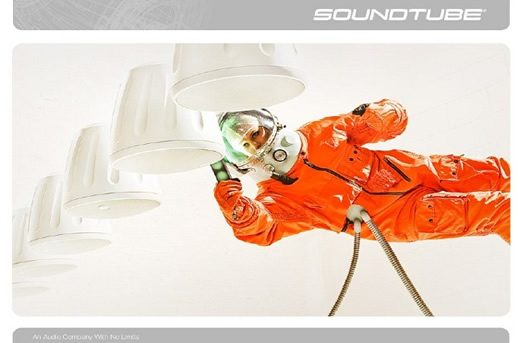 .
Lead. Or follow.®

It's the philosophy that drives SoundTube Entertainment to constantly establish new standards for quality, innovation and value.
No other speaker company takes the same approach to developing technology, bringing innovation to market and celebrating creativity in everything it does. Because of that, SoundTube continues to introduce products no other speaker company can match.
SoundTube speakers have evolved over the years, from the first actual tubes to today's sleek products covering open-ceiling, in-ceiling, surface-mount, outdoor and sound-focusing applications.
From the beginning, SoundTube has driven the science of full-frequency sound dispersion through proprietary technologies such as BroadBeam®. Along the way, SoundTube speakers also have set the standard for performance, installation ease, style and value.
SoundTube Entertainment is a subsidiary of Multi Service Electronics of Kansas City and continues to design, engineer and market speakers for the commercial audio industry from its headquarters in Park City, Utah.
______________________________________________________________________