NEW from Williams AV - TLS 10 Convey Room Translator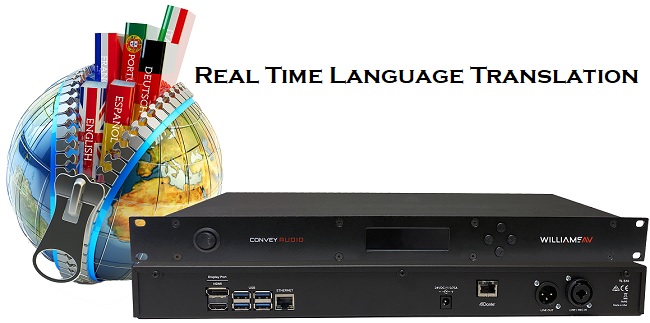 Williams AV is making inclusion easier for all with the new Language Translation System, Convey. Through the power of AI, Convey has the ability to translate up to 27+ languages and more than 70 dialects.
Listening is more than just hearing someone, it is about understanding them as well. And sometimes, understanding simply must come from communicating in the same language. With that in mind, Williams Sound is reinventing the art of listening with the introduction of the new Convey room translator. Convey was designed to enable integrators to easily add translation technology to an audio system design.
Features:
• Real-time translation
• 27+ available languages and >70 dialects
• Translation can be heard over a listening system
• Billing handled directly on app using the google Play or Apple App Store on any iOS and Android device
______________________________________________________________________

Cloud Contractor Series

Cloud's CONTRACTOR SERIES is a value line of electronics and speakers targeted at entry solution and applications.

It is a high quality range of electronic components and speakers that delivers exceptional value for money, sonmic performance and reliability.

Williams AV -

BluePOD Conference Mate

The Williams AV BluePOD Conference Mate Bluetooth® audio conferencing system is designed to simplify making conference calls in your meeting rooms with your mobile phone. With BluePOD, making a conference call is as simple as tapping the Bluetooth connect button on your phone or connecting your laptop to Bluetooth; no special software is needed The Bluetooth Wireless Access Point (B-WAP) ensures a strong and smooth Bluetooth connection. Let your everyday devices seemlessly take advantage of your already installed AV equipment..

Want to see it in action? - If you have a project or application where you think the BluePOD would be the perfect solution, contact your Erikson Commercial sales rep for a demo.

One Systems

ONE.SP8 - All-Weather Loudspeaker

The One Systems' ONE.SP8 is a weather protected medium format sound reinforcement system. The one piece rotomolded enclosure is constructed from UV resistant polyethylene and features a 35mm pole mount socket to mount of top of a standard speaker pole. The enclosure is ported to aid low frequency extension, and the 8" driver is horn loaded to achieve higher SPL than would otherwise be possible. There are 5 integrated rigging points, which can be used in conjunction with the included U Bracket kit for mounting to walls or ceilings. When pole mounting is required, an optional Pole Mount Kit can be purchased. The grill is made from CNC punched steel and coated in a two-layer zinc rich, UV resistant powder coat finish.

The 8" woofer uses a treated cone paper pulp for resistance against water and dry rot. The high energy ferrite magnetics ensure high SPL for maximum coverage from a small system. The high frequency driver is mounted in front of the woofer to a large mouthed horn. This allows the compression driver to be crossed over at a lower frequency to maintain full pattern control across the entire frequency spectrum.

The ONE.SP8 is well suited to outdoor environments where a reliable, weatherproof system is specified. The line matching transformer allows connection to a high voltage line to minimize cable losses over long cable runs, further improving the usability of the system.

U-Bracket is included

SoundTube - IPD-Series

Dante-enabled IP audio distribution

Dante-enabled digital audio systems can now extend all the way to the end point in an installation. SoundTube's IPD Speaker Series brings the convenience of Dante control and management to in-ceiling and surface-mount speakers. With a single category cable, you can run audio and up to 40 watts per channel PoE to a speaker. Every digital low latency speaker in a SoundTube IPD system is individually addressable and self-monitoring. And, because these speakers are set up and managed via software, zoning is easy and there's no need to re-wire anything if system requirements change. We offer four in-ceiling IPD models and one surface-mount model, and our new IPD-RS pendant is coming soon.In addition, our IPD4 speakers give you an economical way to expand audio coverage in a Dante system. With an IPD4 speaker, up to three additional non-Dante SoundTube speakers may be added, and powered, to run off of a single Dante-enabled speaker. Click the below link for more information.

All Dante systems will need specific software to route signal paths. Audinate's Dante Controller can be used for this and can be downloaded here.
Dante Controller Software
PureLink A/V Over IP Solutions

Reliable encoder/decoder options, purpose-built network switches, and peripherals, all managed by the revolutionary VPX IP Video Management Software provide the industry's most scalable and easy to use networked A/V distribution solution.

Multi-format hardware options including the VIP–200/300 encoders/decoders and purpose-built PoE
CAT/Fiber Media Hubs, together with the revolutionary VPX IP Video Management Software, deliver a
complete, easy-to-manage A/V over IP distribution system.

VPX KEY FEATURES:

• Third party control automation API

• Advanced video wall processing

•Preset creation & scheduling

• Device management

• Network discovery

• Simplified setup

Hall Research VERSA 4K

4K Video & USB over IP

The VERSA-4K provides the means to extend and switch multiple HDMI video and USB data to virtually an unlimited number of receivers on a simple Gigabit network. Bidirectional IR, RS-232, and auxiliary stereo audio can also be extended. Advanced features include, low latency video and audio, CEC and Serial over IP for control, video wall processor to expand and split 4K video on to multiple screens, video rotation and flipping (horizontal and vertical), USB Device class filtering for excluding specific USB device types such as USB flash drives, automatic KVM switching, Telnet and webGUI control, Dynamic Virtual Matrix™ (DVM) operation, PoE (power over Ethernet) support, and more.